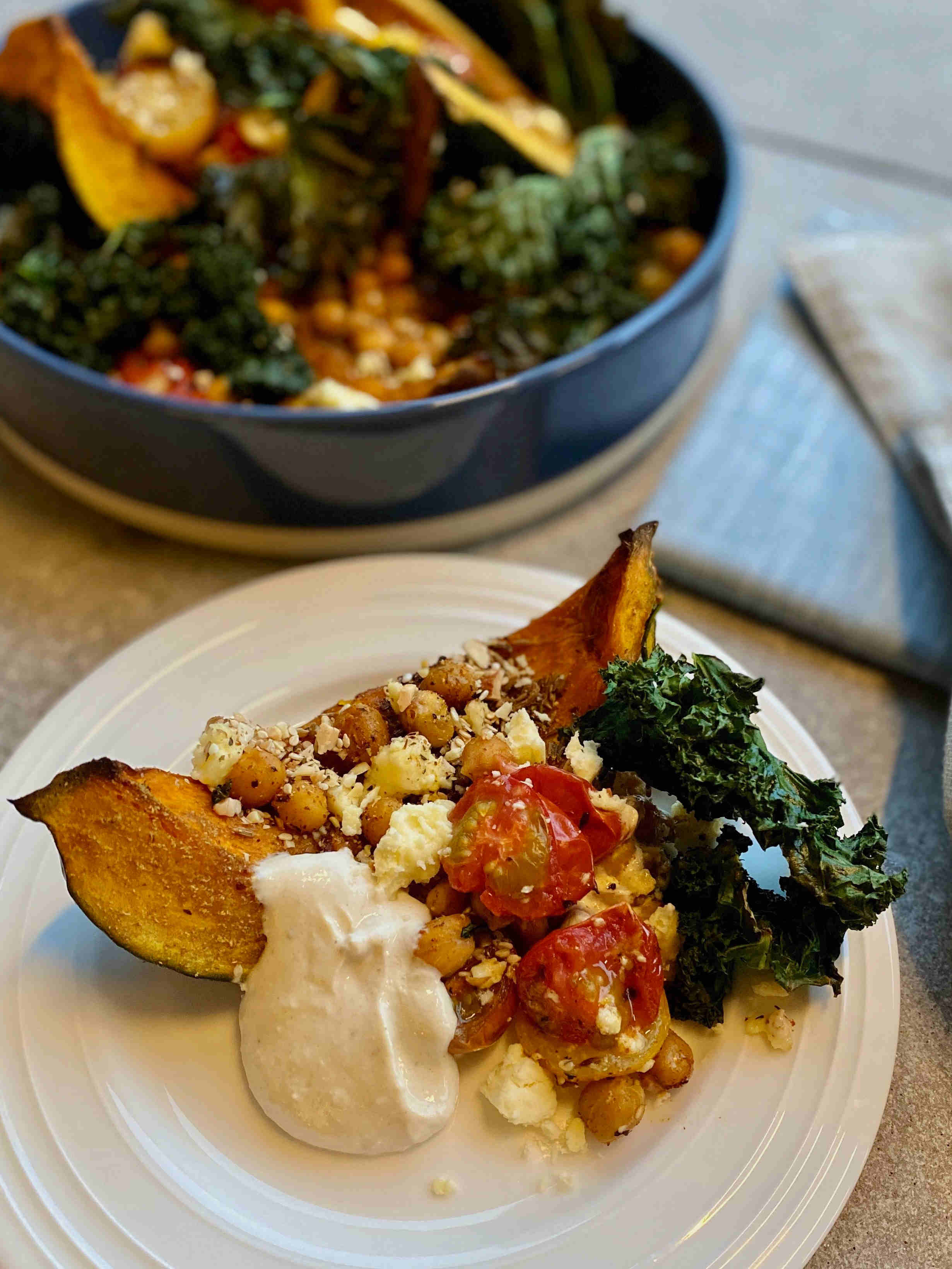 This recipe goes well with a side of roasted chicken or lamb and includes all the colours of Autumn. Alternatively if you are vegetarian, a poached egg also works well and together with the chickpeas and yoghurt dressing will provide you with a reasonable amount of protein. The kale chips give you a delicious bit of crunch are more on the bitter side which will taste great especially if you have noticed the intensity of sweet foods after surgery.
Prep: 15 Minutes
Cook: 40 Minutes
Ingredients:
1/2 squash, cut into 4 wedges
2 tbsp olive oil
1 pinch chilli flakes
1 tsp cumin seeds
1 tsp ground coriander
4 kale leaves, torn and stem removed
1-2 tsp olive oil
1 tin of chickpeas, drained and rinsed
1 tsp harissa powder
1 tub cherry tomatoes, halved
1 cup plain high protein yoghurt
1 tbsp tahini
juice of 1/2 lemon
salt and pepper
1 tsp dukkah (optional)
40g feta
Method:
Preheat oven to 180 degrees fan bake
Line an oven tray with baking paper and place the wedges of squash on top
Drizzle 1 tbsp of the olive oil over the wedges and sprinkle the chilli flakes, cumin seeds and ground coriander on top. Season with salt and pepper and place in the oven for 20 minutes
While the squash is cooking, prepare another tray with bakind paper
Place the torn kale leaves on top and drizzle with 1-2 tsp olive oil + a crack of salt and pepper
Massage the olive oil into the kale leaves until the leaves begin to soften, and spread evenly across the tray. Set aside
Once the squash has been in the oven for 20 minutes, remove and make space on the tray for the chickpeas and tomatoes
Sprinkle the harissa over the chickpeas and tomatoes and using a pastry brush, brush the squash with the remainder of olive oil (1tbsp) to ensure it isn't too dry. Return the tray to the oven for a further 20 minutes
While the squash, chickpeas and tomatoes are cooking, prepare the yoghurt dressing. In a small bowl, mix the yoghurt, tahini and lemon juice with a crack of salt and pepper until well combined. Set aside
With 10 minutes remaining, place the tray of kale into the oven
After 5 minutes, turn the kale chips to ensure they get crispy on both sides. Return to the oven for a further 2-3 minutes until completely crispy (keep an eye on these at this point as they can burn easily)
Once the squash is cooked through and the kale chips are ready, remove everything from the oven ready for assembling
Spread the yoghurt dressing in the bottom of your serving dish of choice. Place the wedges of squash on top. Spoon the chickpeas and cherry tomatoes on next. Sprinkle with the dukkah if using and top with the kale chips. Crumble the feta on top and serve with your protein of choice!