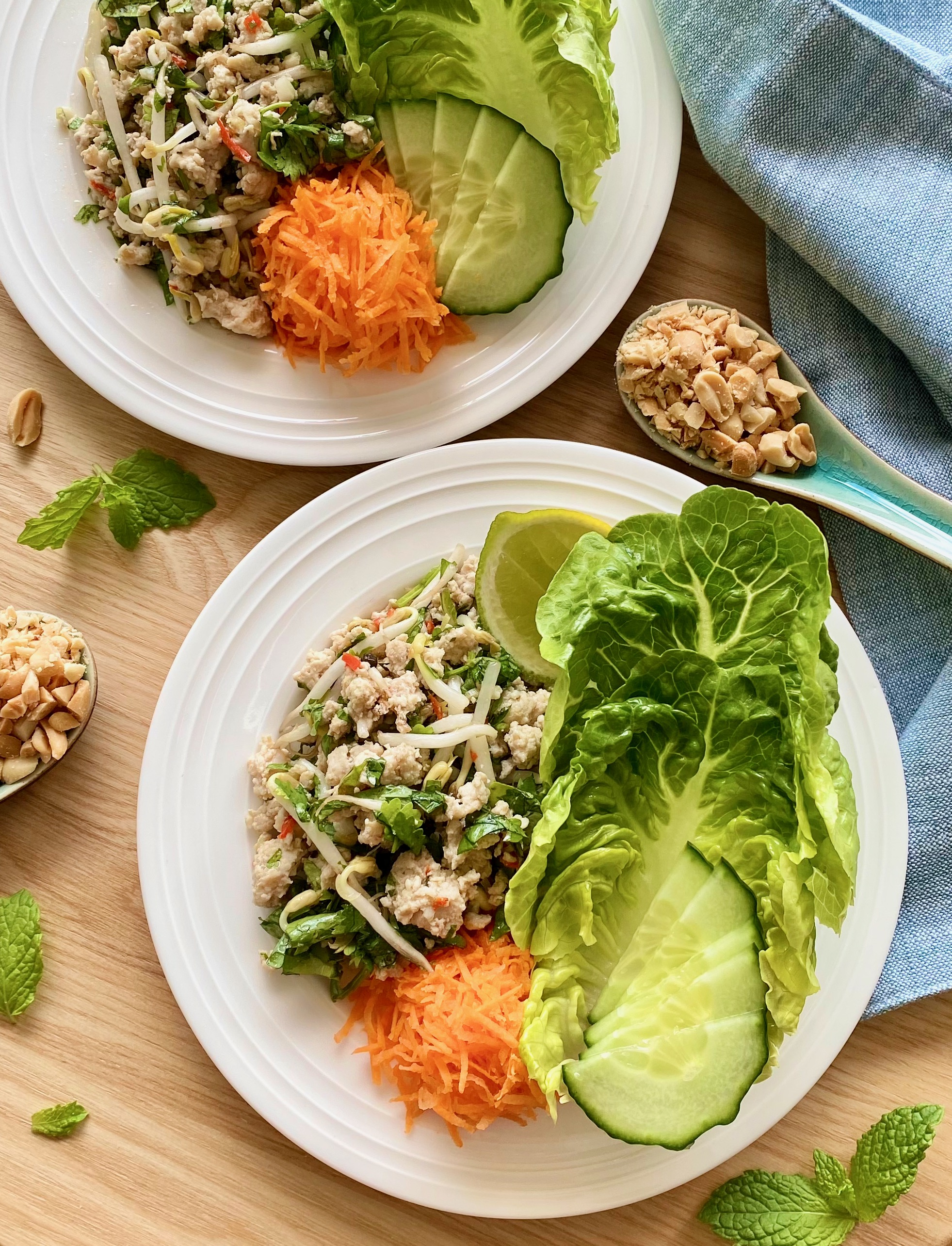 My take on chicken larb - this quick and easy dish is ingredibly fresh and flavourful. Your hands will get a little messy, but trust me it's worth it! Perfect for summer or when limes are in season (March-September for NZ).
Tip: If wrapping chicken in lettuce cups sounds like too much admin for a workplace lunch, try putting shredded lettuce in a container and top with the larb, peanuts and other salad ingredients.
Prep: 15 Minutes
Cook: 10 Minutes
Portions: 5-6 side plate portions
Ingredients:
2 tbsp fish sauce
the juice of 1 lime + an extra lime to serve
1 tsp castor sugar
1 stick lemongrass
1 lime leaf
1 tbsp olive oil
1 red chilli, deseeded and thinly sliced
2 garlic cloves, finely chopped
500g chicken mince
100g bean sprouts, rinsed
1 big handful fresh coriander, chopped
1 big handful fresh mint leaves, chopped
1 carrot, finely grated
1 head of cos lettuce, washed and leaves separated
1/2 telegraph cucumber, halved and thinly sliced
1/2 cup roasted, salted peanuts, roughly chopped
Method:
Mix the fish sauce, lime juice and sugar together. Set aside
Remove the fibrous outer later of the lemongrass and thinly slice, discarding the root. Set aside
Remove the stem of the lime leaf and finely chop. Set aside
Heat the oil in a large frying pan over a medium heat. Saute the lemongrass, chilli and garlic for 1 minute
Add the chicken and lime leaf and cook for 5 minutes or until cooked through. Stir the chicken regularly, breaking the mince up into small pieces as you go
Once the chicken is cooked, add the fish sauce mix and cook for a further minute
Remove from the heat and add the bean sprouts, coriander and mint
To serve, divide the lettuce leaves, carrot, and cucumber between 5-6 side plates. Add a serving of chicken to each
To eat, fill each lettuce leaf with some chicken, salad ingredients, sprinkle of chopped peanuts and an extra squeeze of lime - yum!